---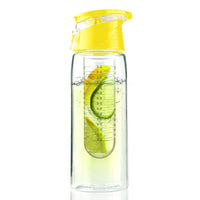 FRUIT INFUSER BOTTLE MADE WITH TRITAN PLASTIC GREAT FOR COLD OR HOT FLUIDS! INFUSE YOUR COLD WATER OR TEAS!
Brand new Fruit Infuser Bottle! 800 ml! Yellow top!

Infuser
Water
Bottles
are specially designed for infusing
fruits
with water. ... Every
bottle
follows the same mechanism. All you have to do is chop up some
fruits
, toss them inside the
bottle
and enjoy the goodness of a healthy, refreshing and sugar-free drink, packed with vitamins and min
erals, i.e. it is all natural.
Drink well and live healthily with our Foldable Fruit Infusers! Made with BPA free plastics. Simply pop in some of your favourite fruits and you're good to go -so let this be your daily water bottle! This design comes with a foldable handle and nozzle for easy drinking!
Have a Healthy & Tasty drink wherever you go!
BPA Free plastics
The bottle can withstand extreme temperate changes. Add desirable ingredients into your infuser. Allow 5-15 minutes infusion time