---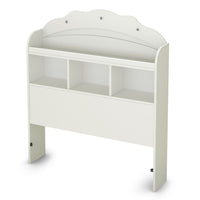 Brand new in box! South Shore Tiara Twin Bookcase Headboard (39'') Pure White!  TIARA DESIGN. The elegant, uniquely-designed shape of this headboard will appeal to younger and older girls alike. Its feminine, tiara shape and metal, jewel-like inserts will bring out the princess in every girl. Retails $180+
Build The Perfect Bedroom
It's all in the details for the Tiara Collection from South Shore Furniture. With elegance and glamour in mind, this collection was designed to please younger and older girls alike. Features include decorative cut-outs, tiara-like headboard and unique jewel-like metal handles for a feminine look. Also, the absence of kick plates gives this collection a light, airy feel. 

The Tiara Collection Bookcase Headboard
With its pretty, feminine and metal, jewel-like inserts, your girl will feel like a princess at bedtime. She'll be able to store her most precious treasures right near her, in the three open bookcase cubbies and large shelf in the headboard. A hole in the back of the bookcase, for wires, means at least a couple of the treasures she stores on her shelves can be electronic.
Assembled Height
46.75 in