---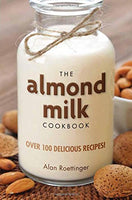 Brand new ALMOND MILK COOKBOOK: OVER 100 DELICIOUS RECIPES, Paperback, 160 Pages!
Almond milk is an exciting, versatile alternative to dairy- and soy-based milks. Whether you re vegan, lactose-intolerant, or allergic to soy, you can still enjoy the rich, creamy goodness of milk. Almond milk has a light flavour with just a hint of almonds and boasts a higher concentration of vitamins and minerals than either dairy or soy milk without any cholesterol or saturated fat.

Chef and cookbook author Alan Roettinger demonstrates how almond milk lightens, enhances, and enriches all kinds of food and presents a broad array of wholesome, satisfying, dairy- and gluten-free recipes. Use any commercial almond milk in these dishes or try your hand at making fresh, easy almond milk at home so you can control it's richness and monitor the ingredients.

More than 100 recipes for delicious smoothies, hot and cold soups, creamy sauces and dressings, satisfying pasta dishes, comfort-food favourites, sweet treats, and frozen desserts showcase the versatility of this nutritious, flavourful beverage.