---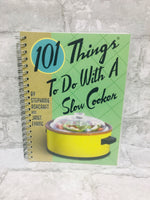 Sale
101 THINGS TO DO WITH A SLOW COOKER!
Brand new 101 Things to do with a slow cooker, spiral bound, 128 Pages!
From the New York Times best-selling author of
101 Things to Do With a Cake Mix!
comes
101 Things to Do with a Slow Cooker.
Call it a slow cooker, a crockery cooker, or your best friend, the popularity of these handy machines has exploded recently, and Mrs. 101" Stephanie Ashcraft has stepped up to the plate (and bowl, and serving tray) with an amazing collection of timesaving recipes.
From South of the Border Pot Roast to Hearty Vegetable Soup to Cherries Jubilee, now anyone can make hearty, healthy dishes for the whole family the "throw-n-go" way. Simply throw several ingredients into the slow cooker, get on with life, and come home to a kitchen filled with the aroma of real home cooking. 101 recipes for main courses, side dishes, desserts, and more are included, along with suggestions for how and what to serve with each dish, time-saving meal preparation tips, and easy modifications to fit your familiestastes.