---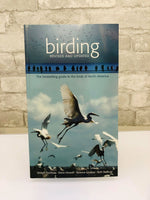 Sale
BIRDING REVISED AND UPDATED! THE BESTSELLING GUIDE TO THE BIRDS OF NORTH AMERICA. PAPERBACK - 288 PAGES.
Devoted to the passion for birds and their observation in North America. For each species, an entire page with article, distribution map, fact sheet and temporal presence diagram, all illustrated with beautiful engravings and a large color photo; this magnificent encyclopedic guide, very well presented, cannot compete with a more compact and exhaustive identification guide, which will be preferred for a trip across the Atlantic; however, for the library, its very careful iconography will help it to hold its place perfectly even if it only deals with a selection of species
Paperback - 288 pages.