---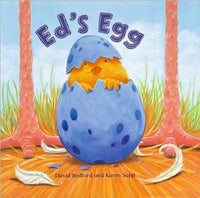 Sale
LARGE FORMAT STORY-TIME BOOK!
Brand new Large Format Story Time Paperback, Ed's Egg, 24 Pages!
Ed's egg has cracked - but it was so warm and comfortable inside he's not sure he wants to leave it yet! Will the other farmyard animals be able to show him what fun there is to be had in the outside world? Fun farmyard story about a chick that doesn't want to leave its egg.