---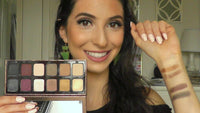 Brand new Exotics Redefined Eye Color Collection LAURA MERCIER! Retails $75+
A limited-edition eyeshadow palette featuring a curated collection of 12 shades ranging from dark and cool to warm tones.
What it does: The mirrored palette features six matte and six sateen-shimmer eyeshadow shades in a range from light to dark. The versatile palette can take eyes from neutral day to sultry night. Universally flattering, the light-reflecting sateen-shimmer shades add dimension and enhance brightness.
Shades include:
- Bone, Dune, Earth, Wind, Allspice and Noir (matte finish) (0.03 oz. each)
- Goldrush, Choco Glace, Spirit, Auberge and Carbon (sateen finish) (0.03 oz. each)
- Dust (shimmer) (0.02 oz.)
How to use: Apply Noir to the upper lid as a traditional smoke, and Coco Glace to the lower lash and corner of the eye for a textured, multidimensional smoky eye. Highlight the browbone with either Dust or Spirit.
Pro tips: Lighter, brighter and shimmer shades pull a feature forward. Darker, matte shades recede.