---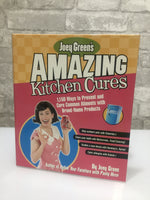 Sale
AMAZING KITCHEN CURES WITH OVER 1,150 WAYS TO PREVENT & CURE COMMON AILMENTS WITH PRODUCTS AROUND THE HOUSE!!
Brand new Joey Greens Amazing Kitchen Cures 1150 Ways to Prevent & Cure Common Ailments With Brand-Name Products Hardcover
Stop bleeding with Krazy Glue®? That's amazing! Find the cure for what ails you in the kitchen!
And it's only one of the 1,150 astonishing ideas in Joey Green's Amazing Kitchen Cures! Discover more remedies that are hiding in your favorite household products as Joey reveals that you can:
* Beat a backache with Adolph's Meat Tenderizer®! * End insomnia with Aunt Jemima Original Syrup®! * Cure a cold with Gold's Horse Radish®! * Stop arthritis pain with Heinz Apple Cider Vinegar®! * Get rid of headaches with Gatorade®! * Prevent allergy attacks with Dannon Yogurt®! * Arrest acne with Colgate Toothpaste®! * Soothe aching feet with Alka-Seltzer®!
The next time you're facing a late-night bout of sickness and can't reach a doctor-- get a cut, scrape, or bite-- or just want to save money-- reach for the brand-name products in Amazing Kitchen Cures instead of medications. You'll find that they're just as effective, and some are even better!
* Stop sunburn with Cheerios®! * Clean your teeth wuith McCormick® Food Coloring! * Soothe a sore throat with Hershey's® Syrup! * Calm allergies with Endust®!