---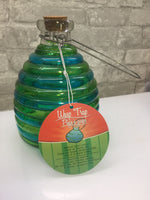 Sale
NATURAL PEST CONTROL! LARGE GLASS WASP TRAP! DOES NOT TARGET BENEFICIAL BEES!
Brand new Large Glass Wasp Trap, does not target beneficial bees!
Simple, elegant solution to deter unwanted wasps from outdoor pond areas.
Toland Large Glass Wasp Traps offer all-natural pest control that eliminates the need for harmful pesticides or the use of electricity. Artful ribbed glass design in an attractive color choice that instantly beautifies any outdoor space. Place on a flat surface or hang wasp traps using the included metal hanger.
Are wasps and yellow jackets ruining your family picnics or your backyard? Don't like those industrial wasp traps from the hardware store that use dangerous chemicals? Try these classic Glass Wasp Traps made from a high quality, thick glass in a classic beehive shape. These wasp traps are an all-natural way to control wasps and they hang beautifully in any garden or outdoor living space. A sturdy cork top keeps the pests from getting away and a stylish wire hanger adds to the appeal of this lovely trap. Not only do these wasp traps look good, they work great as well.
Simply fill the inner reservoir with just a little soda or sugar water to attract the wasps and once they are inside they are stuck and you can enjoy your outdoor gatherings. They also feature legs so that these wasp traps can either be placed on a table or hung to protect your party. These wasp traps are stylish, functional and don't require the use of harmful chemicals - an organic and natural way to manage wasps.