---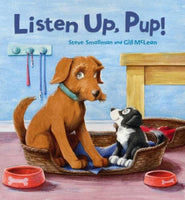 Sale
LISTEN UP, PUP! LARGE FORMAT GREAT STORY TIME BOOK!
Brand new Listen Up Pup, Large format Story time Paperback book, 24 Pages!
Toby is a happy dog...until a new puppy comes along! Toby decides to teach Snoop some lessons and soon learns that having a pup around isn't so bad after all. Beautifully illustrated, QED Story time introduces young children to the pleasures of reading and sharing stories. The diverse series has been written by various authors, including multiple prize winners and many who are established worldwide.
These gorgeous storybooks aim to extend young reader's literacy skills but are also destined to become firm bedtime favourites! Beautiful illustrations bring each uplifting tale to life