---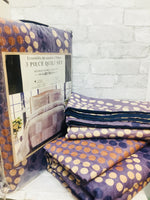 Sale
Brand new Premier Bamboo Comfort 3 Piece Quilt Set! Fits Double/Queen!    Dotted Print purples, cream, dark teal! 
Ultra Soft Bamboo and Microfiber Blend Quilt with Matching Quilted Pillow Shams
Add a stylish and comfortable touch to any bedroom with the Bamboo Comfort all season 3-Piece Quilt/Coverlet Set with Bamboo/Microfiber Blend Shell. Crafted in a smooth and supple blend of rayon derived from bamboo and microfiber, our quilt is luxurious, versatile, and durable!
The Bamboo Comfort Coverlet features a stylish quilted pattern, durable stitching, and matching pillow shams. Smooth, supple fabric weight that offers cozy warmth while remaining breathable to keep your body temperature just right whether it's a cold Winter night or a balmy Summer evening. The Bamboo Comfort Quilt is easy to care for, and the wrinkle resistant fabric requires no ironing. For the best colour retention and to protect the bamboo/microfiber fibers, please machine wash in cold or warm water with like colours, and tumble dry on a low setting or hang-dry in the sun. Remove from dryer promptly to avoid wrinkling.