---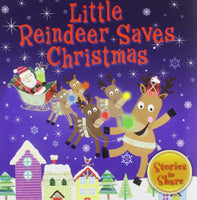 Sale
GREAT STORIES TO SHARE PAPERBACK CHRISTMAS STORY! AGES 3-6 YRS!
Brand new Little Reindeer Saves Christmas, Paperback, 26 Pages!
A little reindeer is very nervous when Santa chooses him to help pull his sleigh. What if he can't fly? What if his nose won't light up? He tries and tries, but he just can't seem to get the hang of it. Will the little reindeer be ready to fly on Christmas Eve?