---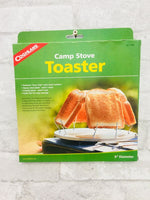 CAMP STOVE TOASTER! TOAST UP TO 4 SLICES AT A TIME!
Brand new Coghlan's Camp Stove toaster.
Coghlan's Camp Stove Toaster comes along as an exclusive sure grip toast holders. One can toast the way one likes it outdoors and it folds to dinner plate of size 9 inches in diameter.
The original Camp Stove Toaster performs perfectly, toasting up to four slices at a time. Durable steel construction with coated wires fold flat for easy packing and will not
rust.
The original Camp Stove Toaster performs perfect toasting up to four slices at a time
Coghlan's 504D Camp Stove Toaster
The original Camp Stove Toaster performs perfect toasting up to four slices at a time