---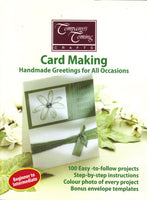 Sale
COMPANY'S COMING CRAFTS: CARD MAKING, HANDMADE GREETINGS FOR ALL OCCASIONS. STEP-BY-STEP INSTRUCTIONS - BEGINNER TO INTERMEDIATE.
Brand new Company's coming crafts: Card making. Handmade greetings for all occasions. Step-by-step instructions! Beginner to Intermediate.
Paperback: 158 pages
Craft for everyone , whether you are a beginner or a pro. Featuring easy-to-follow projects, step-by-step instructions and a colour photo of every project. Each t
itle includes a handy photographic index and a metric/imperial conversion chart. Decorative crafts.