---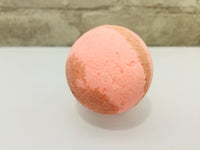 Sale
Cream Soda~ This deliciously sweet bath bomb is reminiscent of cream soda (or if you love Snow Fairy from LUSH - this is the one for you!) This is such a fun bath bomb and once it's in the tub will turn the water the beautiful hue of pink for a fun at-home spa like experience!
Fill your tub with warm water, drop in the luscious bath bomb and enjoy its many benefits and yummy aromas.
Designed and made with pure essential oils for sensitive skin.Our regular sized Bath Bombs are about 2.50 oz in size + made with all top quality ingredients. All our bombs will tint your water while surrounding you with amazing fragrances.
Our bombs are made with...
Baking Soda: 

Makes skin feel silky + soft. When combined with Citric Acid creates the fizz.

Citric Acid

 

- ​Other half of the fizz + source of vitamin C.
Epsom Salts

 

- Otherwise knows as hydrated magnesium sulfate, works wonders to relax sore and tired muscles.

 

Helps to relieve inflammation.

Corn Starch

 

- Soothes + relieves dry, itchy skin.
Kaolin Clay

 

- Helps to lock in the scent + make your water feel softer.
Sweet Almond Oil

 

- Moisturizing light oil to help soften your skin while you soak.
Polysorbate 80

 

- Helps to spread the oils throughout the water + keep any colorants or dyes from sticking to you or your tub or giving you the awful bath bomb ring around the tub.
Sodium Lauryl Sulfoacetate (SLSA)

 

- This creates soft, silky bubbles to make your bath more luxurious.
Don't confuse this with SLS. Our SLSA is derived from coconut + palm oils, while conforming to Ecocert's natural + organic cosmetic standard and is 100% of natural origin. - Essential Oils and/or Fragrance - We only use high quality Essential oils or phthalate, paraben + sulfate free fragrance oils sourced in North America. While our products are mild enough for children and those with sensitive skin we do suggest to test on skin before use, as they may contain allergens.