---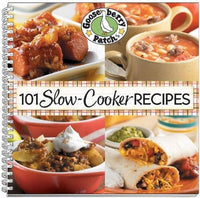 Sale
GOOSEBERRY PATCH 101 SLOW-COOKER RECIPES. SPIRAL-BOUND - 112 PAGES.
Brand new Gooseberry Patch 101 Slow-Cooker Recipes. Spiral-bound - 112 pages.
Slow cookers are handy helpers in the kitchen all year 'round! 101 Slow-Cooker Recipes cookbook is brimming with easy, tried & true recipes for homecooked food that your whole family will love. With a full-color, taste-tempting photo for every recipe, it's easy to treat your family to favorite comfort fo
ods like lasagna, garlic smashed potatoes, hearty corn chowder and country-style bread pudding. From everyday dinners to family get-togethers, you'll come back to 101 Slow-Cooker Recipes cookbook over & over for oh-so-easy recipes to satisfy and impress your family & friends!