---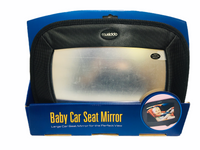 Sale
Brand new Kiddo Baby Car seat Mirror! Large Car Seat Mirror for the Perfect View!
EASY AS 1, 2, 3! Kiddo brings you the easiest baby car mirror installation available; all you have to do is safely mount your baby car mirror to your vehicle's headrest using our Baby Care Safety Straps, specifically engineered to enhance your safety & overall driving experience. Keep your eyes on the road, while watching your baby's every move!

WATCH & LEARN with Kddo's Premium Baby Car Mirror that was specifically designed to enhance parent & infant interactions while driving. Simply adjust your Wide Angled Convex Mirror ( 7.5 IN x 12 IN) to your preferred view & immediately notice a difference. Your infant can watch, learn, sing, dance, & laugh with you; courtesy of Kiddo's Baby Mirror.

BABY TESTED & PARENT APPROVED! Kido's Wide Convex Mirror & Secure Safety Straps allow you to watch your baby's every move. You can sing the ABCs, practice counting, laugh, & monitor your baby's crying using our Premium Baby Mirror, without sacrificing the safety of your driving.

KIDDO ONLY USES THE FINEST MATERIALS to engineer & create your premium baby car mirror. We took our shatterproof acrylic glass and combined it with super strong elastic straps, and a high quality frame to construct our durable, convenient, long-lasting baby car mirror.