---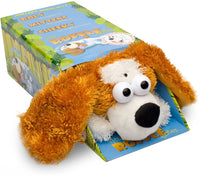 Brand new Laughing Loonies, Dog! Hilarious contagious Laugh! Adults & Kids both get a kick out of this!! No packaging!
Light sensor activation - great for surprising your friends.

Rolls over and over while laughing and laughing.

The crazy dog rotates his tail to provide the rolling motion and his mouth opens and closes in sync to his laugh!

Instant hilarity for both children and adults.

Requires 3x AA batteries (not included).