---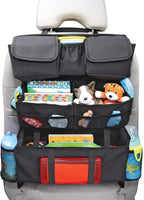 DELUXE BACKSEAT ORGANIZER! EASILY ATTACHES TO SEAT TO KEEP YOUR VEHICLE CLEAN & ORGANIZED WITH MANY COMPARTMENTS!
Brand new no package! MultiTech On the Go Deluxe Backseat Organizer!
While on the road, keep the essentials organized and within arms reach. With the back seat organizer for kids, eliminate the amount of times you have to keep them entertained. Several pockets accommodate books, hand-held games, toys, food, bottles and more! Never lose an item or have a meltdown on the road again!
13.9 x 9.5 x 2.1 inches
Several exterior and interior pockets
Accommodate toys, bottles, books and more
Easy to install
Adjustable straps keep organizer tight