---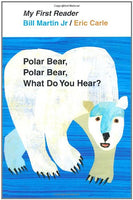 ERIC CARLE MY FIRST READER HARDCOVER, POLAR BEAR, POLAR BEAR, WHAT DO YOU HEAR? INCLUDES READING ACTIVITIES INSIDE!
Brand new Polar Bear, Polar Bear, What Do You Hear? My First Reader Hardcover, 40 Pages!
These beloved children's stories are now available in beginning reader format.
With the important pre-reading concepts of rhyme, rhythm, and repetition, these picture books have long been used as beginning readers. Now, with a 6" x 9" trim and a
classic beginning reader layout, children will have a more "grown up" version to read by themselves.