---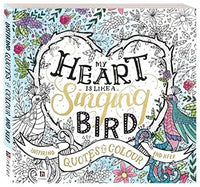 INSPIRING QUOTES TO COLOUR AND KEEP!! GET INSPIRED ARTISTICALLY, MENTALLY AND SPIRITUALLY WITH THIS GORGEOUS ADULT COLOURING BOOK OF QUOTES TO COLOUR AND DISPLAY! PAPERBACK - 96 PAGES!
Brand new My heart is like a singing bird - inspiring quotes to colour and keep!! Paperback - 96 pages!
Get inspired artistically, mentally, and spiritually with this gorgeous adult colouring book of quotes to colour and display. Featuring over 45 tear-out designs
to decorate your home of office, or give as a personal gift to someone special.