---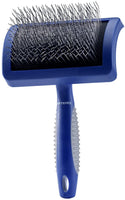 New Artero Extra Long Universal Pins Slicker with Plastic Handle P478, great for removing your pets tangles without pain!
The Artero Extra Long Universal Pins Slicker Brush features extra-long pins (20mm) on a curved, plastic body helping to detangle and remove loose undercoat quickly and effectively. 
This medium-sized professional dog slicker brush has been designed for dematting work on long, thick or curly coats and is ideally suited for medium or large breeds. 
The brush features an ergonomically designed handle and is very lightweight, thus ensuring that there is minimal stress on the hand and wrist while grooming.
Professional slicker brush suitable for large and giant dog breeds
Curved head for difficult to reach places
Strong 20 mm pins ideal for most coat types
Angled pins for deep penetration of the coat
Flexible padded cushion for gentle, easy brushing
Lightweight and ergonomic