---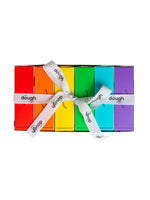 New Nordstrom Make Your Own Playdough Mix, The Chef's Collection by The Dough Project! Outer packaging has some distress contents are perfect! Retails $55US+
The Dough Project creates a world of kid-powered playing that parents can feel good about. Made with simple all-natural ingredients, dough and DIY Mixes come packed with everything you need to inspire endless possibility.
Easy step-by-step directions & six boxes of dry mix to whip up your very own all-natural, plant-based playdough in all the colors of the rainbow.

Each box makes one 15 oz batch of dough (about 3 jars worth)

The DIY Mix is an all-natural dry mix made with organic wheat flour, sea salt, cream of tartar + turmeric for color. Just add water, oil + follow our simple step by step instructions to make your own playdough.

Product details:
Ingredients: organic wheat flour, Sea salt, Cream of tartar, Beet, Turmeric & Spirulina for color
Requires a grown up to use the stove.
Ages 3+

Dough Care: 
After your dough is cooked, store it in an air tight container to maintain freshness. Refrigerate to extend shelf life and preserve color brightness.
The Dough Project was started by as a preschool teacher in NYC. Year after year, making playdough was her go-to classroom hack. It was fun and easy to make...and even better - fun and easy to play with, build with, squeeze, smush and share again and again.


After witnessing the magic that came from playing and creating in her classroom, she knew she needed to make it easier for families to recreate that experience at home.