---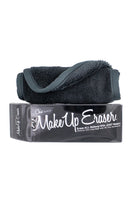 New Nordstrom The Original MakeUp Eraser® MAKEUP ERASER in Chic Black! Equal to 3600 Make up Wipes! Retails $27+

#1 sustainable makeup remover. Erase ALL Makeup With JUST Water! Including waterproof mascara, eyeliner, foundation, lipstick, & more!
✓ machine washable  
✓ reusable 
✓ eliminates waste
The Original MakeUp Eraser is a premium & patented cloth made up of millions of tiny hair-like fibers that work together to create a "suction" for all dirt, makeup, & oil in your pores. Double-sided to erase makeup with the short fiber side & exfoliate the skin with the long fiber side (side with tag). PRO TIP: Use in sections, machine wash approx. 1-2 times per week.
1 MakeUp Eraser is equal to 3600 makeup wipes! Ultra soft, hypoallergenic, & dermatologist approved. 
Free of alcohol, oils, astringents, parabens, fragrances, & sulfates. 
Original MakeUp Eraser measures approx. 15.5in x 7.25in. 
What it is: A cloth makeup eraser that removes 100% of your makeup with just water, including waterproof eyeliner, mascara and HD makeup.
 

Full size purple MakeUp Eraser. ∙ Measures 15.5" x 7.5" ∙ Removes all makeup (including waterproof) with just water. ∙ cruelty-free & chemical-free. ∙ Antibacterial, reusable, & machine washable. ∙ Lasts up to 1,000 washes.
BENEFITS
Great for all skin types. Reusable. Antibacterial. Machine washable (1,000 washes).
SUGGESTED USE
Machine wash before first use. Wet section with warm water and erase in gentle circular motion.