---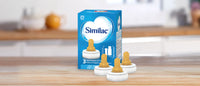 New SIMILAC® NIPPLE 3-PACK Each pack contains three reusable, individually wrapped, BPA-free and latex-free bottle nipples and rings.
Can be used directly with our 59 mL and 235 mL bottles.
No need to pour the formula into a baby bottle!
Just add a nipple and serve.
Formula feeding made easier with the Similac® Nipple 3-pack.