---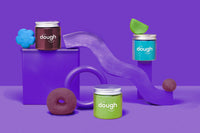 New The Dough Project 3 Jars of All Natural Plant Based Play dough & Rolling Pin! Colours are Under the Sea!
All-natural play dough jars are colored from plants and made in the USA.
Recommended for ages 3+  
Ingredients:
Organic wheat flour

Sea salt

Cream of tartar

Vegetable oil
Coloring:
beet, annatto seed, turmeric, chlorophyll, spirulina, purple carrot, activated charcoal
Dough Care:
Be sure to return the dough to its container and seal the lid after every use. Store jars in a cool dry place. Dough lasts 4-6 months and colors may fade over time.  Store in the fridge to extend shelf life.