---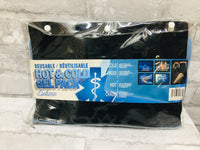 Sale
REUSABLE HOT & COLD GEL PACK WITH CLOTH HOLDING POUCH! NON TOXIC! STAYS HOT OR COLD FOR HOURS!
Brand new in package! Deluxe Reusable Flexible gel hot/cold pack with cloth holding pouch, pouch is white
Great for Migraines, muscle strains, body aches, swelling & more!
Flexible to use anywhere you need it
Safer than gel; filled with non-toxic liquid
Measures 7" X 11"


Cold therapy is also known as cryotherapy. It works by reducing blood flow to a particular area, which can significantly reduce inflammation and swelling that causes pain, especially around a joint or a tendon. It can temporarily reduce nerve activity, which can also relieve pain.
Heat therapy works by improving circulation and blood flow to a particular area due to increased temperature. Increasing the temperature of the afflicted area even slightly can soothe discomfort and increase muscle flexibility. Heat therapy can relax and soothe muscles and heal damaged tissue.