---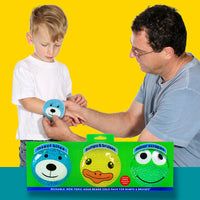 Brand new Reusable Kids Cold Gel Pack – Cool Buddies 3 Pack! 
My Cool Buddies Kids Cold Gel Pack are great to have around to treat those scrapes, bruises, insect bites, and bumps.
These Kids Cold Gel Pack set are fun, reusable, no-toxic aqua bead cold packs for kids that you can just place in your refrigerator or freezer.
Doctors universally recommend the immediate application of cold therapy to treat bumps, bruises, insect stings and minor burns.
Providing natural safe pain relief. They also have an ultra-soft plush backing. This set includes 3 hypoallergenic My Cool Buddies cold packs!
Nontoxic Hypoallergenic
Reusable
5″ Diameter
For All Ages