---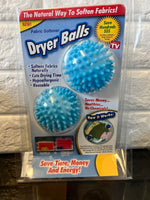 Brand new in package! Ontel DryerMax Anti-Static Laundry Dryer Balls | Reusable, Natural, Hypoallergenic Fabric Softener | Saves Dryer Time and Energy | 2 Count
Eliminate dryer static and make doing laundry easier with the convenience of these anti-static dryer balls. Containing no harsh chemicals, it's the healthy way to dry laundry.
plastic

Avoid the Hassle: Dryer Max Anti-Static Dryer Balls are the safe, natural, and easy way to soften fabrics! Save money on chemical fabric softeners & dryer sheets while reducing energy consumption.

Reusable: Our Dryer Max Anti-Static Dryer Balls are durable & reusable, use them over and over to dry your clothes faster and more efficiently for years!

Softens Fabrics Naturally: Dryer Max Anti-Static Dryer Balls tumble in the dryer to lift and separate laundry, allowing hot air to flow more efficiently. Innovative soft nodules massage fabrics to naturally fluff up and soften without the use of chemicals! Safe for all fabrics.

Time Efficient: Anti-static technology reduces drying time by up to 50%! Minimizes wrinkles & controls static cling for soft, naturally fluffed laundry every time!

Better Alternative: Non-Toxic, Hypoallergenic Natural Fabric Softener.