---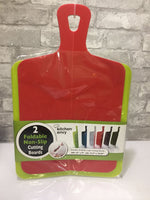 SET OF 2 FOLDABLE NON-SLIP CUTTING BOARDS! 1 RED & 1 GREEN!
Brand new in package! Set of 2 foldable non-slip cutting boards by Kitchen Envy!
When the 2 Non-Slip Foldable Cutting Boards are laid flat, it provides a durable surface for all types of food preparation. This unique design enables the sides of the board to fold up making the transfer from cutting board to pot much easier without waste.
K

ITCHEN ENVY'S FOLDABLE CUTTING BOARDS HAVE A UNIQUE

FOLDABLE DESIGN. THIS MAKES IT CONVENIENT TO CUT AND THEN CONVERT INTO A CHUTE THAT MAKES ADDING CHOPPED FOODS TO A POT A BREEZE.

This design employs a hinge technology to achieve its transformation. In addition, it also features a comfortable, non-slip handle. Available in two sizes and two colors. Dishwasher safe.
Small 15″ x 9″ Cutting Board
Large 15.5″ x 10.25″ Cutting Board
Slim design for easy storage.
Multi-purpose use as a cutting board which doubles as a serving board.
Non-slip dot backing ensures a stable cutting surface.
Handle includes a hanging hole for easy, space-saving storage.