---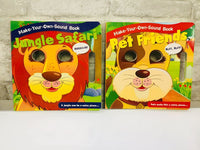 SET OF 2 MAKE-YOUR-OWN-SOUND BOARD BOOKS!
Brand new Set of 2 Make-Your-Own-Sound Board Books!
Includes Jungle Safari & Pet Friends!
10 Pages in Each Book, Age Range 5-6 Years!
These sturdy, interactive board books are designed for call and response between friends. Just stick your face in the back and make all the noises they do and you will look like them too!