---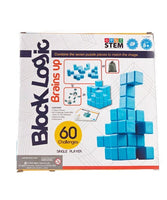 SINGLE PLAYER GAME WITH 60 CHALLENGES! BLOCK LOGIC. Slight Damage to package, contents are perfect!
Brand new in box Block Logic!
With over 60 challenges, single players are provided instructions with 5 to 14 shape pieces, and cards with hints to the solutions. Also includes a Game-Go bag to take anywhere!
Combine the pieces to match an image.
Single player.
Creative Logic Game.
Invent & Innovate.
For ages 8 years & up.
A STEM Product