---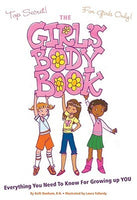 Sale
THE GIRLS BODY BOOK; EVERYTHING YOU NEED TO KNOW FOR GROWING UP YOU! AGE 10+
Brand new The Girlss Body Book; everything you need to know for growing up you, paperback, 112 Pages!
Just as boys headed straight to last season's

 

The Boy's Body Book

 

for information and reassurance, this companion volume is destined to become the go-to guide for adolescent females. Fun to read and easy to carry, it answers all the important questions about becoming a woman that girls are sometimes too embarrassed to ask. From hygiene to exercise, teachers to peer pressure, everything's discussed here, in a frank and friendly way: parents that drive you crazy, boys who've caught your eye, best friends, physical changes and menstruation, schools and grades, body image and proper nutrition, and moodiness and other emotional stuff. Sections on high school, part-time jobs, and even career planning will feed a girl's dreams of the future. This entertaining, enlightening, and joyously illustrated look at growing up will be a staple of every girl's bookshelf for generations to come.