---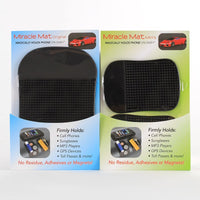 MULTI-TECH SOLUTIONS MIRACLE MAT SET OF 2! MAGICALLY HOLDS PHONE, SUNGLASSES, CHANGE & OTHER ITEMS ON DASH. NO RESIDUE, ADHESIVES OR MAGNETS!
Brand new Miracle Mats set of 2! Magically holds phone on dash. No residue, adhesives or magnets! Firmly holds: Cell phones, sunglasses, mp3 players, gps devices, toll passes & more!
The original Miracle Mat and Miracle Mat Minis Firmly hold your phone, sunglasses, MP3 players, GPS devices, toll passes and mo
re on your car dash with no residue, adhesives or magnets. This makes a great and practical gift! This fantastic set includes one original Miracle Mat and 2 mini Miracle Mats!