---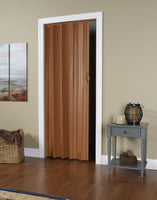 Brand new Wallscapes VS3280F Spectrum Via 24 to 36 by 80-Inch Fruitwood Accordion Folding Door! Retails $109+
32-36" x 80", fruitwood via folding door, safe, non-leaded vinyl door with flexible vinyl hinges, fits openings from 24" to 36" wide by 80" high, 36" of track included in the door kit & can be installed as a double door, all hardware included.
Fits openings 24- to 36-inches wide by 80-inches high

Durable, attractive and cost-effective

Safe non-leaded vinyl formulation

Track and hardware included
Via Folding Door
The Via 36 in. x 80 in. Vinyl Accordion Door fits openings of 24 in. to 36 in. wide and comes with track, hardware and straightforward installation instructions. The durable, maintenance-free vinyl panels have flexible vinyl hinges for enduring beauty and longevity, certain to provide many years of dependable performance. Ideal for closets and entryways with space constraints, the door trims easily to any height and has a reversible handle, allowing the option of installing two of these doors (priced separately) as a double door.
36 in. of track, hardware and easy installation instructions are included
Magnetic Lock
Durable Construction
Track & Hardware Included
24 - 36" Opeings
Trimming Instructions
Trimming Instructions
Custom fit to any door opening. Follow these easy step-by-step instructions to trim your door:
1) Remove bottom hinge screws, if included with the door style you are installing.
2) Stack the folding doors together (closed position).
3) Slowly cut the excess door with a fine tooth saw.
4) Replace bottom hinge screws, if included with the door.