---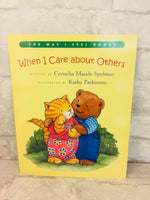 Sale
Brand new When I Care about Others (The Way I Feel Books) Paperback! 24 Pages!
In this simple book, the author begins by helping children see that when they are sick, hurt, or unhappy, others care about them. Children can then begin to see that others need to be cared about as well.
"The lesson in When I Care is that children should treat others as they wish to be treated."
School Library Journal

"This charming title in The Way I Feel series will help youngsters identify and understand the basic concepts and importance of receiving and offering help and emotional support. A little bear describes familiar situations, such as being hurt, sick, or feeling sad, and explains how he was helped or how he offered sympathy and kindness to someone else. The text is very simple, and the 'treat others as you would like to be treated' concept is well conveyed--from playground teasing to helping out. The cheerful, colorful art features a cute, expressive animal cast showing age-appropriate ways to express caring and kindness, including sharing one's bike and bringing feel-better flowers."